Water analysis panel
Modular panel solution for a reliable and safe water monitoring in all industries
Do you have to comply with increasingly strict water quality standards? And, therefore, to continuously measure more and more parameters? Then a modular water analysis panel is the perfect solution for you. It can be perfectly adapted to your local requirements and thus enables safe and reliable measurements at your critical control points. With these solutions, everything is very simple: planning, commissioning and maintenance.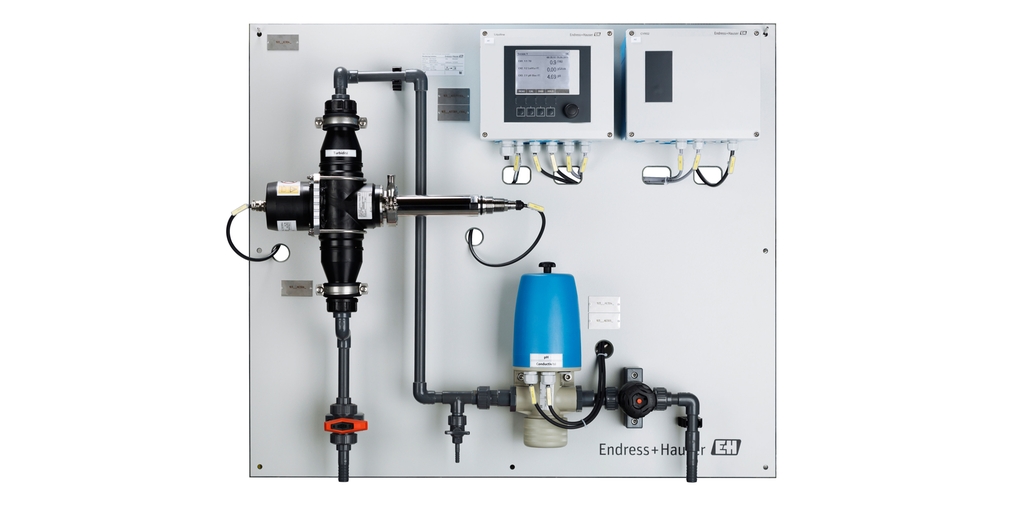 Your benefits
Ideal solution for monitoring water quality

Seamless integration into existing communication networks (Profibus DP, Modbus TCP/IP, remote monitoring via web server and cloud connection)

The sensor diagnostic functions thanks to integrated heartbeat technology allow condition-based maintenance and easy checking of the entire measuring point

Flexibly expandable with the measurement parameters ammonium, phosphate, nitrate as well as total chlorine, free chlorine and bromine
Easy maintenance, short downtimes
Water analysis panels are compact solutions for efficient water quality monitoring. They fit seamlessly and space-savingly into your existing system. Equipped with Liquiline multi-parameter transmitters, it is possible to easily use pre-calibrated sensors with Memosens technology. This considerably reduces the workload in the process. Integrated cleaning functions, up to automated solutions, also minimize downtimes and save valuable working time.
Measure a wide range of parameters
pH/ORP

Conductivity

Dissolved oxygen

Turbidity

Chlorine

Bromide

Nitrate

Sum parameters (BOD, COD, TOC, SAC)

Color and photometric measurements
Other parameters are available upon request.
Field of application
Water analysis panels monitor a wide range of parameters in all industries and their utilities, for example in the following applications:
Process water

Wastewater effluent

Cooling water

Desalination

Surface water

Scrubber wash water

Water abstraction

Beverage production

Chemical pulp processing
Measuring points
4-channel transmitter
Liquiline CM444

Liquiline CM444 combines best-in-class performance with clever simplicity: fast system integration, great ease-of-use and a convenient expandability save you time and money every day.

Turbidity sensor
Turbimax CUS52D

Turbimax CUS52D is a smart inline/immersion turbidity sensor for all water production measuring points. Achieve lab quality measurement without product loss!

Digital free chlorine sensor
Memosens CCS51D

Memosens CCS51D is a robust, low-maintenance free chlorine sensor. It provides stable and fast measured values in drinking water, pool and process water as well as utilities.

Digital oxygen sensor
Oxymax COS61D

Oxymax COS61D is a high-performance, digital oxygen sensor that offers fast, accurate and drift-free measurement. It supports your process with low maintenance, high availability and easy handling.

Digital pH sensor
Orbisint CPS11D


The glass electrode with Memosens technology is the digital all-rounder for process and environmental technology. Benefit from low maintenance, a long operating life and best value for money.

Digital conductivity sensor
Condumax CLS21D

Condumax CLS21D is a digital conductivity sensor with outstanding high durability. It provides you with precise and reliable measuring values for an optimum process and product quality monitoring.
Simple products

Easy to select, install and operate
Technical excellence
Simplicity
Standard products

Reliable, robust and low-maintenance
Technical excellence
Simplicity
High-end products

Highly functional and convenient
Technical excellence
Simplicity
Specialized products

Designed for demanding applications
Technical excellence
Simplicity
FLEX selections
Technical excellence
Simplicity

Fundamental selection

Meet your basic measurement needs

Technical excellence

Simplicity

Lean selection

Handle your core processes easily

Technical excellence

Simplicity

Extended selection

Optimize your processes with innovative technologies

Technical excellence

Simplicity

Xpert selection

Master your most challenging applications

Technical excellence

Simplicity
Success stories
The all-round carefree panel

Water Analysis Panels make continuous monitoring of drinking water easy at the water treatment plant in Frasnacht, Switzerland.

Controlled by Liquiline Control

Liquiline Control regulates nitrification and denitrification in the Stadtlohn wastewater treatment plant. The control system ensures compliance with limit values and optimized energy usage.

Controlled by Liquiline Control

The wastewater treatment plant in Stadtlohn (Germany) regulates phosphate removal using the Liquiline Control system. The result: stable outlet values with optimized precipitant consumption.

Keeping the turbine running

Heizkraftwerk Zwickau Süd GmbH (HKWZS) has built a new biomass power plant to supply the city of Zwickau. The plant was equipped with state-of-the-art analytical solution SWAS.
Downloads
For the love of quality water

Take a look at the Endress+Hauser devices specially developed for the water treatment sector. Memosens and Liquiline as well as monitoring solutions, that make your work at the water facility easier.

Making sure your wastewater treatment plant runs and runs

Take a look at the Endress+Hauser devices specially developed for wastewater. Memosens and Liquiline as well as monitoring solutions, that make your wastewater treatment processes easier.
Related offering
Analytical monitoring stations

From custom-made measuring cabinets and containers to fully air-conditioned measuring stations, our solutions contain all the parameters and sample preparations you need.

Analytical monitoring panels

Improve your process quality and safety with our monitoring panels. They offer you a plug and play solution that combines best fit instrumentation with expert services to simplify your measuring task.
Drinking water analysis panel

Manage your measuring tasks very easily: with an analytical monitoring panel especially developed for drinking water. It combines up to 4 individual measuring points in a very small space.

Water monitoring saves lives

Water is increasingly being considered a valuable product in most countries. Therefore, the acceptance for water wastage is continuously decreasing and the need to control the water quality is rising.