Turbidity assembly
Flowfit CUA250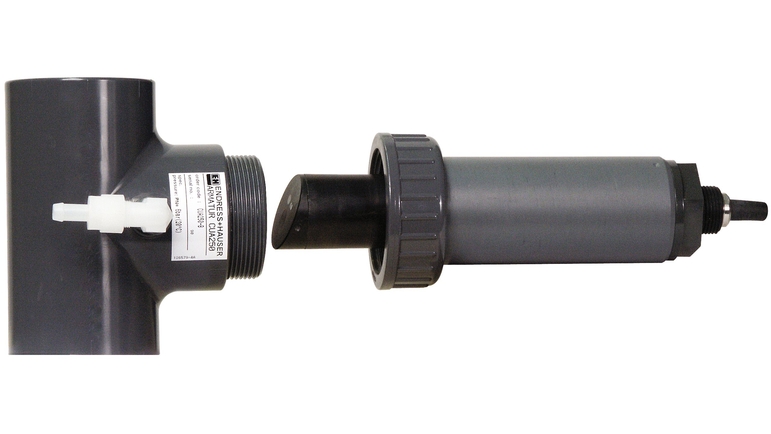 Flow assembly for water and wastewater applications
Flowfit CUA250 is a process and flow assembly for turbidity measurement. Continuous in-line measurement of turbidity in aqueous media is used for real-time measurement of non-soluble substances in water for purposes of monitoring, detection of operating states and control applications.

Quick selection
Choose from our suggested options
Individual configuration
Continue your selection from all possible options
Benefits

Flow assembly featuring simple adaptation to standard piping

Sensor orientation can be adapted to individual requirements of application

Additional cleaning device employs spray cleaning to increase sensor maintenance intervals

Flange adapter for...
Field of application

Flowfit CUA250 is a flow assembly for use with turbidity sensors Turbimax CUS31 and CUS41. Typical applications are:

Discharge monitoring in communal and industrial wastewater

Sedimentation monitoring in wastewater treatment (coagulation and...
Documents / Manuals / Software
Accessories / Spare parts
Nr

30

Order code

50060704

Sleeve AAX CUS1 P

Alte Material-Nummer: 125843-0000

Nr

30

Order code

71248647

Sensoradapter: CUS52D for CYA251/CUA250

Nr

60

Order code

50036907

o-ring ID39.34 W2.62 AD44.58

Alte Material-Nummer: 118768

Nr

170

Order code

50011564

o-ring ID12.42 W1.78 EPDM

Alte Material-Nummer: 113000
28.02.2020

Xperience the FUTURE - Process Measurement TODAY 2020

22.06.2020 - 26.06.2020

With the help of actual hands-on tasks you will learn how PROFIBUS fieldbus technology works in detail. At the end of the course you will be able to design and commission a PROFIBUS fieldbus network.